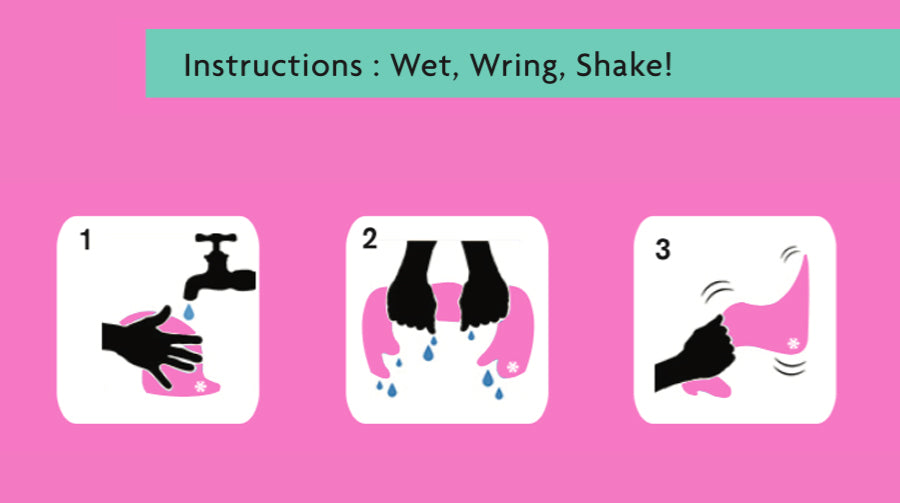 Chilly Towel is super easy to use and re-use. Our unique hyper-evaporative fibre allows the material to trap in water and become cooler than ambient air when wet, which enables the towel to maintain a temperature that feels cool to the skin. The fibres retain water, which provides cooling relief while staying dry to touch for hours, meaning it will not saturate your clothes or sheets.
To Activate Your Chilly Towel, follow these 3 simple steps:


1. Wet - Soak Thoroughly in Water
2. Wring out 
3. Shake in Air to Activate 
These three simple instructions will activate the towel and will chill and instantly make you feel cool. Enjoy!


To Keep your Chilly Towel Fresh:

If you don't use your Chilly Towel on a regular basis, it is recommended you rewet it periodically to keep it fresh.
Store your Chilly Towel in the cylinder packaging and place it in the fridge to keep it fresh and super chilled.

The Chilly Towel is re-usable and machine washable.

Never place your Chilly Towel in the freezer.

To avoid bacteria problems, wash with standard washing detergent.
Throughout Winter months or when not in use, wash your Chilly Towel and completely dry it out and store flat (as it will turn hard when dry) until next use.

Just remember, as long as the Chilly Towel is re-wet before use and washed occasionally, it will stay fresh when used on a regular basis and stored in its container.

Keep Cool and Enjoy! ❄️